We've just spend a superb month in company with some friends travelling around the Valencia/Alicante areas of Spain using a mixture of Aires and Wild Parking for stopovers.
We met up with our friends, Steve and Lorna, at one of our favourite spots just by the beach at a small Spanish resort, it was their first trip to this area and they were very pleasantly surprised by what a great spot it is! Very busy though with maybe a 100 vans and sad to say that some motorhomers were becoming very territorial about their spaces - even using water bottles to mark out their 'pitches'
That aside we had a great few days R&R before we went for an inland tour to show Steve and Lorna around a bit. Just a few miles inland there is a great, and little used, Aire. Free to stay with a proper service area we enjoyed a couple of nights and made use of one of the town's great little bar/restaurants - menu-del-dia at just 7.50€ and a wonderful part restored Monastery which was free to wander around plus free wifi at the Tourist Office.
On the second morning a Belgian couple joined us at the parking and proudly told us that they had been to the Aire before and were a bit dismayed to see others using it as they had been determined to keep the location a secret! They didn't approve of websites and books that publish locations, I kid you not.....
From there we drove over the nearby mountains to the next valley and on to an Aire that we had recently discovered. On arrival it was deserted and the electric gates were firmly shut. I phoned the number on the gate to see if they would open it up for us and in my best Spanish understood that someone would be along shortly.....
Sure enough a someone appeared and opened the gates, showed us where to park and gave us a tour of the facilities. He plugged in all the appliances in case we would want to use the washing up sinks , the washing machine and the showers etc. A few minutes later a man drove into the Aire and showed us around again - he was the village's Mayor, and very proud of 'his' Aire he was too. He took our payment for a couple of nights giving us a small discount and threw in a one hour wifi access for good measure (which for some reason lasted the duration of our stay - bonus!).
We had the Aire to ourselves and enjoyed exploring the village and spent a few hours having a superb tapas lunch at the adjacent municipal recreation area's bar/restaurant. We decided to stay an extra day and also had a great barbecue and watched some fab sunsets - it doesn't get much better .
Leaving there we checked out a couple of wildcamping areas that had been recommended to Steve and Lorna whilst at our original location. Although the towns were worthy of a walk around we didn't actually stay at either so continued to our next planned stop at a small established Aire on the side of a large town that we had used many times in the past.
A sign of the times I suppose but, although still open, the Aire was sadly neglected, drains blocked and overflowing with recent discharges of cassettes (why, when its already blocked?) and the fresh water tap had been vandalised some time ago as we seem to remember it was the same at our last visit. Probably a good example of what happens to an Aire when it's considered to be uneconomical to maintain....
Next stop was a pre-booked stay at a Super Aire on the coast. En route we had a great drive through all the groves with almond and cherry blossom starting to burst through.
Meeting up with some other friends in their massive RV we all enjoyed a proper dinner party at their place - so much space!
A bit of mountain climbing was on the cards so Steve and I scrambled to the top - what a view!
We wanted to stay a few more days but the Aire has a 3 day limit for where we were parked so, we had to move off for one night before we could return for another 3 day stint. We tried Wild Parking in a nearby street which worked well.
Leaving the Super Aire at the end of our second stay we headed to a little wildcamp that we discovered recently. On arrival there wasn't much wildcamping to be seen.... So we just parked and had some lunch and a wander around. Returning to the vans we had both acquired an offical(?) police notice that were illegally camped and should move on!
We did, and headed to a lighthouse on a nearby promontory and a likely looking layby parking area with the most fantastic views.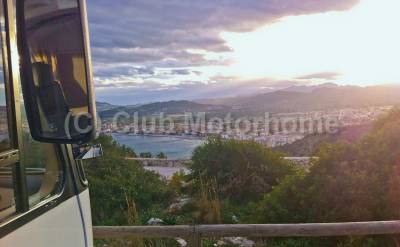 We had a great evening socialising and just marveling at what a great spot we'd found A Belgian van pulled in and stayed overnight too bolstered with confidence by being in a small group instead of on their own. A wonderful planetarium like sky with no light pollution other than the sequence of flashes from the lighthouse - a very peaceful night and views were just as good in the morning when our blinds were opened!
Just one of the many fantastic scenic wild camps we've experienced in Spain.
Mini tour over we headed north along the coast road back to our original wild camping location for a few more days before heading off in different directions.
Now, all the mentioned places we visited and stayed at are in the Stopover sections of Club Motorhome and unlike our Belgian acquaintance mentioned earlier we ARE happy to share our 'secrets' with our subscribing members - if the places are of interest to you please just PM or email me and I'll give the links to their descriptions etc